acequinocyl
Acaricide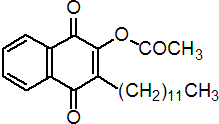 NOMENCLATURE
Common name acequinocyl (BSI, pa ISO)
IUPAC name 3-dodecyl-1,4-dihydro-1,4-dioxo-2-naphthyl acetate
Chemical Abstracts name 2-(acetyloxy)-3-dodecyl-1,4-naphthalenedione
CAS RN [57960-19-7] Development codes AKD-2023 (Agro-Kanesho); DPX-3792 (DuPont); DPX-T3792 (DuPont); AC-145 (Cyanamid)
PHYSICAL CHEMISTRY
Mol. wt. 384.5 M.f. C24H32O4 Form Yellowish fine powder. M.p. 59.6 °C V.p. 5.1 ´ 10-2 mPa (40 °C) KOW logP >6.2 S.g./density 1.15 (25 °C) Solubility In water <10 mg/l (20 °C). In n-hexane 44, toluene 450, dichloromethane 620, acetone 220, methanol 7.8, dimethylformamide 190 (all in g/l). Stability Hydrolysis DT50 19 d (pH 1.2, 37 °C), 86 d (pH 4, 25 °C), 52 h (pH 7, 25 °C), 76 min (pH 9, 25 °C). Aqueous photolysis DT50 (pH 5) 6 d.
COMMERCIALISATION
History Licensed by E. I. du Pont de Nemours and Co. to Agro-Kanesho Co. Ltd. Registered in Japan and Korea since 1999, and under development in EU and USA. Manufacturers Agro-Kanesho
APPLICATIONS
Biochemistry Hydrolysed to 2-dodecyl-3-hydroxy-1,4-naphthoquinone which binds to the Qo centre (ubiquinol oxidation site) at complex III in the mitochondrial electron-transfer chain. Mode of action Active primarily by contact, with some oral uptake. Uses For control of Panonychus spp., Tetranychus spp., Aculops spp., Polyphagotarsonemus spp. in citrus, apple, pear, peach, cherry, melon, cucumber, tea, ornamentals and vegetables. Effective against all development stages of these mites, including eggs. Application rates are 1.3-7 l product/ha for fruit trees, 1-3 l product/ha for vegetables. Phytotoxicity None observed except in some varieties of strawberry and rose. Formulation types SC. Compatibility Not compatible with alkaline products. Selected products: 'Kanemite' (Agro-Kanesho, Arvesta)
OTHER PRODUCTS
'Piton' (Agro-Kanesho, Arvesta)
MAMMALIAN TOXICOLOGY
Oral Acute oral LD50 for rats and mice >5000 mg/kg. Skin and eye Acute percutaneous LD50 for rats >2000 mg/kg. Very mild skin and eye irritant (rabbits). Not a skin sensitiser (guinea pigs). Inhalation LC50 for rats >0.84 mg/l. NOEL NOAEL for rats 9.0, dogs 5 mg/kg daily Other No developmental toxicity (rats, rabbits); no reproductive effects (rats); no oncogenicity (rats, mice); non-mutagenic (Ames, DNA repair and chromosome tests).
ECOTOXICOLOGY
Birds Acute oral LD50 for mallard ducks and Japanese quail 2000 mg/kg. Dietary LC50 (5 d) for mallard ducks and Japanese quail >5000 ppm. Fish LC50 (96 h) for common carp and rainbow trout >100 ppm. Daphnia LC50 (24 h) 0.0039 ppm. Bees LD50 (contact) >350 mg/bee. Worms LC50 for Eisenia foetida >1000 mg/kg soil. Other beneficial spp. Harmless to spider (Pardosa sp.), lacewing (Chrysoperla carnea), rove beetle (Aleochara bilineata), carabid beetle (Poecilus cupreus), parasitic wasp (Aphidius rhopalosiphi) (IOBC).
ENVIRONMENTAL FATE
Soil/Environment Soil DT50 (aerobic) <3 d. Koc (four soil types) 31 800-123 000.