ZJ3757
Chemical Name: N-(2-tert-butylamineformoxyl-4-chloro-6-methylphenyl)-1-(3-chloropyridine-2- pyridinyl)-3-fluoro-methoxy-1H-pyrazole-5-carboxamide
COMMERCIALISATION
Under development by Zhejiang Research Institute of Chemical Industry Ltd.
Structure: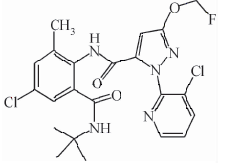 Action: Pesticide
Target: diamondback moth (plutella xylostella), cotton worm (Prodenia litura), Beet armyworm (spodoptera exigua) and Cabbage White (pieris rapae).
Toxicity and field efficacy:
Toxicity of novel compound ZJ3757 against Plutella xylostella,Prodenia litura and Spodoptera exigua were tested by leaf dip bioassay.The LC50 values were 0.088,0.905 and 0.095 mg/L, respectively,which were almost equivalent to that of chlorantraniliprole and flubendiamide.Field trials showed that the control efficacy of 20% ZJ3757 SC against P.xylostella,S.exigua,P.litura and Pieris rapae were 88.41%, 92.72%,82.07% and 98.39%,respectively,after seven days treatment at the dosage of 15 g a.i./hm2, which were equivalent to that of chlorantraniliprole,higher or equivalent to that of flubendiamide,indoxacarb and emamectin benzoate.The results suggested ZJ3757 is a new insecticide effective against P.xylostella,P.litura,S.exigua and P.rapae on vegetables.