warfarin
Rodenticide
coumarin anticoagulant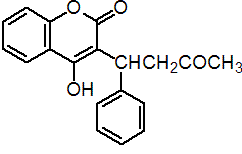 NOMENCLATURE
Common name warfarin (BSI, E-ISO, BAN); warfarine ((m) F-ISO); coumafène (France); zoocoumarin (USSR); coumarins (JMAF, also applied to coumatetralyl (q.v.)); no name (The Netherlands)
IUPAC name (RS)-4-hydroxy-3-(3-oxo-1-phenylbutyl)coumarin; 3-(a-acetonylbenzyl)-4-hydroxycoumarin
Chemical Abstracts name 4-hydroxy-3-(3-oxo-1-phenylbutyl)-2H-1-benzopyran-2-one
CAS RN [81-81-2] unstated stereochemistry; [5543-58-8] (R)-(+)- isomer; [5543-57-7] (S)-(-)- isomer EEC no. 201-377-6 (for (RS)- isomers); 226-908-9 (for (R)- isomer); 226-907-3 (for (S)- isomer)
PHYSICAL CHEMISTRY
Mol. wt. 308.3 M.f. C19H16O4 Form The racemate forms colourless crystals. M.p. 161-162 ºC V.p. 1.5 ´ 10-3 mPa Solubility In water 17 mg/l (20 ºC). Very slightly soluble in benzene, diethyl ether and cyclohexane. Moderately soluble in methanol, ethanol, and isopropanol. In acetone 65, chloroform 56, dioxane 100 (all in g/l, 20 ºC). Dissolves in aqueous alkalis with the formation of water-soluble salts. Sodium salt: in water up to 400 g/l; insoluble in organic solvents. Stability Very stable, even to strong acids. pKa It is acidic
COMMERCIALISATION
History Its anticoagulant properties reported by K. P. Link et al. (J. Biol. Chem., 1944, 153, 5) at the Wisconsin Alumni Research Foundation. Patents US 2427578
APPLICATIONS
Biochemistry General internal bleeding is induced by reduction of the prothrombin content of the blood. Mode of action Anticoagulant rodenticide. Repeated ingestion is necessary to produce toxic symptoms. The (S)-(-)- isomer has 7-fold greater rodenticidal activity than the (R)-(+)- isomer (B. D. West et al., J. Am. Chem. Soc., 1961, 83,2676). Uses Control of rats and mice. There is no tendency to bait-shyness. Formulation types AB; CB; CP; GB; RB; Gel. Compatibility Compatible with other rodenticides. Selected products: 'Sakarat X' (Killgerm); mixtures: 'Cumix' (+ sulfaquinoxaline) (Kemio)
OTHER PRODUCTS
'Contrax Cuma' (Kemio); 'Musal' (Kemio); 'Sewarin' (Killgerm); 'Sewercide' (Killgerm) mixtures: 'Musal stick' (+ sulfaquinoxaline) (Kemio) Discontinued products: 'CoRax' * (Prentiss); 'RAX' * (Prentiss)
ANALYSIS
Product analysis by u.v. spectrometry (AOAC Methods, 17th Ed., 960.15; CIPAC Handbook, 1970, 1, 696) or by hplc (K. Hunter, Anal. Methods Pestic. Plant Growth Regul., 1988, 16, 154). Residues determined by hplc of a derivative (idem, ibid.).
MAMMALIAN TOXICOLOGY
Oral Acute oral LD50 for rats 186, mice 374 mg/kg. Oral LD50 for rats 1, pigs 1, cats 3, dogs 3, cattle 200 (all mg/kg daily for 5 days). Other Organ damage is observed, as well as inhibition of blood coagulation. Only slightly dangerous to humans and domestic animals when used as directed, but care must be taken with young pigs, which are especially susceptible. Toxicity class WHO (a.i.) Ib; EPA (formulation) I EC classification R61| T; R48/25| R52, R53 (for (R)-, (S)-, or (RS)- isomers)
ECOTOXICOLOGY
Birds Poultry are relatively resistant.
ENVIRONMENTAL FATE
EHC 175 (WHO, 1995) Animals Metabolites in mammals include 4-, 6-, 7-, and 8-hydroxycoumarin (R. F. Lawrence et al., Chirality, 1990, 2, 96; F. A. Sutcliffe et al., Chem. Biol. Interact., 1990, 75, 171).