Propamidine
CAS No. 104-32-5
Chemical Name: Propamidine
Synonyms: DAPP;Brolene;propamidine;4,4'-(1,3-Propanediyl)bis(oxy)bisbenzamidine;4,4'-[1,3-Propanediylbis(oxy)]bis(benzenecarbimidamide);4,4'-(1,3-Propanediylbis(oxy))bisbenzenecarboximidamide
CBNumber: CB9897768
Molecular Formula: C17H20N4O2
Formula Weight: 312.37
Structure: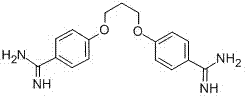 Vapour pressure (20 degree centigrade) : <1. 0*10E-6Pa
Solubility (g / L, 20 degree centigrade) : water 100, methanol 150. Don't be dissolved in benzene and methyl benzene.
Stability: Stability under acidity condition, decomposition under alkaline condition.
Stability: Stability under acidity condition, decomposition under alkaline condition, stability under sunshine and hotness.
Appearance: TC is white, light-yellow powder. SL is pale yellow transparent liquid.
fungicide-Propamidine (C17H20N4O2 2HCI) was invented by the RDCBP. , China and NZYM Inc. , CA. , USA, which originated from food additive, is a new type, high efficiency, low toxicity biorational fungicide for prevention and treatment fungi disease of crops, vegetables, fruit, flowers, tobacco, tea, herbs such as Botrytis cinerea fungus disease.
Propamidine is a novel plant fungicide which invented and developed by Chinese and American scientists in China. This is synthetic bio-chemical is essentially used to control various diseases caused by Botrytis fungi on fruits and vegetables under the field and greenhouse conditions. It is a systemic fungicide, can be intake and distributed in plants. It has unique curative and protective functions against various diseases.
Attention:
( 1) The effectiveness of Propamidine is higher as increased of application concentration and times. The application concentration and time should be reasonable in one growing season of crop, the best way to use three or four times.
( 2) The 2% propamidine SL is stable in neutron-acid liquid, easily decomposed in basic liquid. It can't blend with basic pesticides.
( 3) The best effect to Botrytis cinerea is in the early time of the disease.
( 4) This fungicide is low toxicity, is safe to human being and environment.
( 5) It is recommend that 0. 3% surfactant was mixture with propamidine to increase the adhesively on crops in field application. The temperature is above 20 degree centigrade in applying.
( 6) shelf life is two years.