imazethapyr
Herbicide
HRAC B WSSA 2; imidazolinone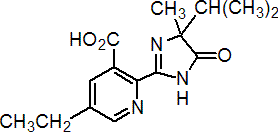 NOMENCLATURE
imazethapyr
Common name imazethapyr (BSI, ANSI, draft E-ISO, (m) draft F-ISO)
IUPAC name (RS)-5-ethyl-2-(4-isopropyl-4-methyl-5-oxo-2-imidazolin-2-yl)nicotinic acid
Chemical Abstracts name (?-2-[4,5-dihydro-4-methyl-4-(1-methylethyl)-5-oxo-1H-imidazol-2-yl]-5-ethyl-3-pyridinecarboxylic acid
CAS RN [81335-77-5] Development codes AC 263 499; CL 263 499 (both Cyanamid)
imazethapyr-ammonium
CAS RN [101917-66-2]
PHYSICAL CHEMISTRY
imazethapyr
Mol. wt. 289.3 M.f. C15H19N3O3 Form Off-white to tan solid. M.p. 169-173 ºC B.p. Decomp. 180 °C V.p. <0.013 mPa (60 ºC) KOW logP = 1.04 (pH 5), 1.49 (pH 7), 1.20 (pH 9) (all 25 ºC) Henry 2.69 ´ 10-6 Pa m3 mol-1 S.g./density 1.10-1.12 (21 °C) Solubility In water 1.4 g/l (25 ºC). In acetone 48.2, methanol 105, toluene 5, dichloromethane 185, dimethyl sulfoxide 422, isopropanol 17, heptane 0.9 (all in g/l, 25 ºC). Stability Rapidly degraded in sunlight, DT50 c. 2.1 d (pH 7, 22-24 °C). pKa pKa1 2.1, pKa2 3.9
imazethapyr-ammonium
Mol. wt. 306.4 M.f. C15H22N4O3
COMMERCIALISATION
History Herbicide reported by T. Malefyt et al. (Abstr. 1984 Weed Sci. Soc. Mtg., Miami, p. 18, Abstract 49). Introduced by American Cyanamid Co. (now BASF AG) in 1989 with first registration for soya beans. Patents US 4798619 Manufacturers BASF; Milenia; Sannong; Sharda; Shenyang
APPLICATIONS
Biochemistry Branched chain amino acid synthesis (ALS or AHAS) inhibitor. Hence reduces levels of valine, leucine and isoleucine, leading to disruption of protein and DNA synthesis. Selectivity in soya benas and peanuts is attributed to rapid detoxification via hydroxylation and glycosylation (B. Tecle et al., Proc. 1997 Br. Crop Prot. Conf. - Weeds, 2,605). Mode of action Systemic herbicide, absorbed by the roots and foliage, with translocation in the xylem and phloem, and accumulation in the meristematic regions. Uses Control of many major annual and perennial grass and broad-leaved weeds in most major crops, at 2-4 oz/a. Applied pre-plant incorporated, pre-emergence, or post-emergence. Phytotoxicity Non-phytotoxic to soya beans and other leguminous crops, when used as directed. Formulation types Aqueous solution; WG. Compatibility Full rate application of products containing chlorimuron-ethyl, cloransulam-methyl, flumetsulam or other imazethapyr products applied the same year as 'Pursuit' may increase the risk of injury to sensitive follow-crops.
imazethapyr
Selected products: 'Newpath' (BASF); 'Vezir' (Makhteshim-Agan, Milenia)
imazethapyr-ammonium
Selected products: 'Hammer' (BASF); 'Overtop' (BASF, DuPont); 'Pivot' (BASF); 'Pursuit' (BASF)
OTHER PRODUCTS
imazethapyr
'Vrilec' (IPESA) mixtures: 'Absolute' (+ clopyralid+ imazamox) (potassium salts) (BASF); 'Alteza' (+ glyphosate) (BASF); 'Elite' (+ pendimethalin) (BASF); 'Extreme' (+ glyphosate-isopropylammonium) (BASF); 'Lightning' (+ imazapyr) (BASF); 'Odyssey' (+ imazamox) (Canada) (BASF); 'Pursuit Plus' (+ pendimethalin) (BASF); 'Standout' (+ glyphosate) (BASF); 'Steel' (+ pendimethalin+ imazaquin) (BASF); 'Flier' (+ glyphosate) (IPESA) Discontinued products: 'Event' * (Cyanamid); 'ImPede' * (Cyanamid); 'Wayup' * (BASF) mixtures: 'Clean Sweep' * (+ bentazone) (BASF); 'Passport' * (+ trifluralin) (BASF); 'Resolve' * (+ dicamba-sodium) (BASF); 'Structure' * (+ pendimethalin+ imazaquin) (BASF)
imazethapyr-ammonium
Discontinued products mixtures: 'Contour' * (+ atrazine) (BASF)
MAMMALIAN TOXICOLOGY
Oral Acute oral LD50 for male and female rats, and female mice >5000 mg/kg. Skin and eye Acute percutaneous LD50 for rabbits >2000 mg/kg; not a skin irritant, and reversible eye irritant. Inhalation LC50 for rats 3.27 mg/l air (analytical), 4.21 mg/l (gravimetric). NOEL (2 y) for rats >500 mg/kg b.w. daily; (1 y) for dogs >25 mg/kg b.w. daily. ADI 0.25 mg/kg b.w. Other Non-mutagenic in the Ames test. Toxicity class WHO (a.i.) U; EPA (formulation) III
ECOTOXICOLOGY
imazethapyr
Birds Acute oral LD50 for bobwhite quail and mallard ducks >2150 mg/kg. LC50 (8 d) for bobwhite quail and mallard ducks >5000 mg/kg. Fish LC50 (96 h) for bluegill sunfish 420, rainbow trout 340, channel catfish 240 mg/l. Daphnia LC50 (48 h) >1000 mg/l. Algae NOEL for Selenastrum capricornutum 50 mg/l. Other aquatic spp. EC50 (14 d) for Lemna gibba 10.1 mg/l Bees LD50 (oral, 48 h) >24.6 µg/bee; contact (48 h) >100 µg/bee. Worms LC50 (14 d) >15.7 mg/kg soil.
ENVIRONMENTAL FATE
Animals In rats, following oral administration, 95% was excreted in urine and faeces within 48 hrs. Residue levels in blood, liver, kidney, muscle, and fat tissues were <0.01 ppm after 48 hours. Plants Rapidly metabolised in non-susceptible plants, soya beans, maize, alfalfa. The primary metabolic route in all crops tested is oxidative hydroxylation at the a-carbon atom of the ethyl substituent on the pyridine ring. Soil/Environment DT50 lab. (aerobic, 20 °C) 158 d. Photolytic degradation DT50 (pH7, 22-24 °C) 2.1 d.