flusilazole
Fungicide
FRAC 3, G1; DMI: triazole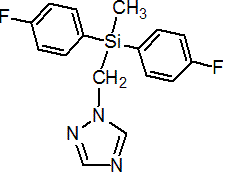 NOMENCLATURE
Common name flusilazole (BSI, ANSI, draft E-ISO, (m) draft F-ISO)
IUPAC name bis(4-fluorophenyl)(methyl)(1H-1,2,4-triazol-1-ylmethyl)silane; 1-[[bis(4-fluorophenyl)(methyl)silyl]methyl]-1H-1,2,4-triazole
Chemical Abstracts name 1-[[bis(4-fluorophenyl)methylsilyl]methyl]-1H-1,2,4-triazole
CAS RN [85509-19-9] Development codes DPX-H 6573 (DuPont)
PHYSICAL CHEMISTRY
Composition Tech. is 92.5%. Mol. wt. 315.4 M.f. C16H15F2N3Si Form White, odourless crystals. M.p. 53-55 ºC V.p. 3.9 ´ 10-2 mPa (25 ºC, gas saturation method) KOW logP = 3.74 (pH 7, 25 ºC) Henry 2.7 ´ 10-4 Pa m3 mol-1 (pH 8, 25 °C, calc.) S.g./density 1.30 Solubility In water 45 (pH 7.8), 54 (pH 7.2), 900 (pH 1.1) (all in mg/l, 20 ºC). Readily soluble (>2 kg/l) in many organic solvents. Stability Stable for more than 2 years under normal storage conditions. Stable to light, and to temperatures up to 310 ºC. pKa 2.5, v. weak base
COMMERCIALISATION
History Fungicide reported by T. M. Fort & W. K. Moberg (Proc. Br. Crop Prot. Conf. - Pests Dis., 1984, 1, 413). Introduced in France (1985) by E. I. du Pont de Nemours and Co. Manufacturers DuPont
APPLICATIONS
Biochemistry Inhibits ergosterol biosynthesis (steroid demethylation inhibitor). Mode of action Systemic fungicide with protective and curative action. Its resistance to wash-off, redistribution by rainfall and vapour phase activity are important components in its biological activity. Uses Broad spectrum, systemic, preventive and curative fungicide effective against many pathogens (Ascomycetes, Basidiomycetes and Deuteromycetes). It is recommended for use on many crops, such as: apples (Venturia inaequalis, Podosphaera leucotricha); peaches (Sphaerotheca pannosa, Monilia laxa); cereals (all major diseases); grapes (Uncinula necator, Guignardia bidwellii); sugar beet (Cercospora beticola, Erysiphe betae); maize (Helminthosporium turcicum); sunflowers (Phomopsis helianthi); oilseed rape (Pseudocercosporella capsellae, Pyrenopeziza brassicae); bananas (Mycosphaerella spp.). Formulation types EC; EW; SC; SE; WG. Selected products: 'Capitan' (cereals) (DuPont); 'Nustar' (fruit) (DuPont); 'Olymp' (fruit) (DuPont); 'Punch' (cereals) (DuPont); 'Sanction' (cereals) (DuPont)
OTHER PRODUCTS
'Benocap' (DuPont); 'Fennec' (DuPont); 'Genie 25' (DuPont); 'Lyric' (DuPont); 'Version' (DuPont) mixtures: 'Alert S' (+ carbendazim) (DuPont); 'Charisma' (+ famoxadone) (DuPont); 'Colstar' (+ fenpropimorph) (DuPont); 'Contrast' (+ carbendazim) (DuPont); 'Escudo' (+ carbendazim) (DuPont); 'Initial' (+ fenpropimorph) (DuPont); 'Pluton' (+ fenpropimorph) (DuPont); 'Punch C' (+ carbendazim) (DuPont) Discontinued products: 'DUK 747' * (DuPont) mixtures: 'Cerelux' * (+ tridemorph) (DuPont); 'DUK 51' * (+ tridemorph+ fenpropimorph) (DuPont); 'Fusion' * (+ tridemorph) (DuPont); 'Gral' * (+ tridemorph) (DuPont); 'Justice' * (+ tridemorph+ fenpropimorph) (DuPont); 'Option' * (+ tridemorph) (DuPont); 'Triumph' * (+ chlorothalonil) (DuPont); 'Meld' * (+ tridemorph) (BASF)
ANALYSIS
Product analysis by glc with FID (CIPAC Handbook, 1998, H, 171); details from DuPont. Residues determined by glc (R. A. Guinivan & M. R. Gagnon, J. Assoc. Off. Anal. Chem. Int., 77, 728 (1994)).
MAMMALIAN TOXICOLOGY
Reviews FAO/WHO 74, 76 (see part 2 of the Bibliography). Oral Acute oral LD50 for male rats 1100, female rats 674 mg/kg. Skin and eye Acute percutaneous LD50 for rabbits >2000 mg/kg; a mild irritant to skin and eyes, but not a skin sensitiser. Inhalation LC50 for male rats 27, female rats 3.7 mg/l air. NOEL (2 y) for rats 10 mg/kg diet; (1 y) for dogs 5 mg/kg diet; (1.5 y) for mice 25 mg/kg diet. ADI (JMPR) 0.001 mg/kg b.w. [1995]. Other Not mutagenic. Toxicity class WHO (a.i.) III EC classification R40| R61| Xn; R22| N; R51, R53
ECOTOXICOLOGY
Birds Acute oral LD50 for mallard ducks >1590 mg/kg. Fish LC50 (96 h) for rainbow trout 1.2, bluegill sunfish 1.7 mg/l. Daphnia LC50 (48 h) 3.4 mg/l. Bees Not toxic to bees. LD50 >150 mg/bee.
ENVIRONMENTAL FATE
Soil/Environment Results of several different studies under varying environmental conditions indicate average DT50 95 d.