fluazinam
Fungicide
FRAC 29, C5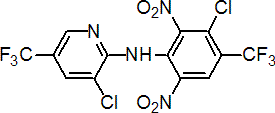 NOMENCLATURE
Common name fluazinam (BSI, draft E-ISO); fluaziname ((m) draft F-ISO)
IUPAC name 3-chloro-N-(3-chloro-5-trifluoromethyl-2-pyridyl)-a,a,a-trifluoro-2,6-dinitro-p-toluidine
Chemical Abstracts name 3-chloro-N-[3-chloro-2,6-dinitro-4-(trifluoromethyl)phenyl]-5-(trifluoromethyl)-2-pyridinamine
CAS RN [79622-59-6] Development codes B-1216; IKF-1216 (Ishihara Sangyo); ICIA0192 (ICI)
PHYSICAL CHEMISTRY
Mol. wt. 465.1 M.f. C13H4Cl2F6N4O4 Form Light yellow crystals. M.p. 115-117 °C V.p. 7.5 mPa (25 °C) KOW logP = 4.1 Henry 4.10 ´ 10-1 Pa m3 mol-1 (calc.) S.g./density 0.366 (25 °C, bulk) Solubility In water 0.135 mg/l (pH 7, 20 °C). In n-hexane 12, acetone 470, toluene 410, diethyl ether 320, dichloromethane 330, ethanol 150 (all in g/l, 20 °C). Stability Stable to acid, alkali and heat. Hydrolysis DT50 42 d (pH 7), 6 d (pH 9), stable at pH 5. Aqueous photolysis DT50 2.5 d. pKa 7.34 (20 °C)
COMMERCIALISATION
History Fungicide discovered and introduced by Ishihara Sangyo Kaisha, Ltd and first marketed in 1990. Manufacturers Ishihara Sangyo
APPLICATIONS
Biochemistry Uncouples mitochondrial oxidative phosphorylation, inhibiting spore germination, hyphal penetration, growth and sporulation. Mode of action Fungicide with protective action. Has little curative or systemic activity, but good residual effect and rain fastness. Uses Control of grey mould and downy mildew on vines; apple scab; southern blight and white mould on peanuts; and Phytophthora infestans and tuber blight on potatoes. Control of clubroot on crucifers, and rhizomania on sugar beet. Applied at 150-750 g/ha. Also for control of mites in apples. Formulation types DP; SC; WP. Selected products: 'Cobbler' (Barclay); 'Frowncide' (Ishihara Sangyo); 'Omega' (ISK Biosciences, Syngenta); 'Shirlan' (Syngenta)
OTHER PRODUCTS
'Altima' (Ishihara Sangyo); 'Legacy' (ISK Biosciences); 'Mapro' (Ishihara Sangyo); 'Sagiterre' (Ishihara Sangyo); 'Sekoya' (Ishihara Sangyo); 'Shogun' (Ishihara Sangyo) mixtures: 'Epok' (+ metalaxyl-M) (Syngenta) Discontinued products: 'Salvo' * (Zeneca)
ANALYSIS
Details from Ishihara Sangyo.
MAMMALIAN TOXICOLOGY
Oral Acute oral LD50 for rats >5000 mg/kg. Skin and eye Acute percutaneous LD50 for rats >2000 mg/kg. Irritating to eyes, slightly irritating to skin (rabbits). Tech. is a skin sensitiser, but purified material is not (guinea pigs). Inhalation LC50 for rats 0.463 mg/l.
ECOTOXICOLOGY
Birds Acute oral LD50 for bobwhite quail 1782, mallard ducks 4190 mg/kg. Fish LC50 (96 h) for rainbow trout 0.036 mg/l. Daphnia LC50 (48 h) 0.22 mg/l. Algae EC50 (96 h) for Selenastrum capricornutum 0.16 mg/l. Other a