dicyclanil
Insecticide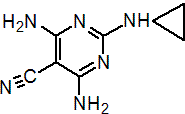 NOMENCLATURE
Common name dicyclanil (pa ISO)
IUPAC name 4,6-diamino-2-cyclopropylaminopyrimidine-5-carbonitrile
Chemical Abstracts name 4,6-diamino-2-(cyclopropylamino)-5-pyrimidinecarbonitrile
CAS RN [112636-83-6] Development codes CGA 183893 (Ciba-Geigy)
PHYSICAL CHEMISTRY
Mol. wt. 190.2 M.f. C8H10N6 V.p. <2 ´ 10-8 mPa (20 °C) KOW logP = 2.9 S.g./density 1.57 (21 °C) Solubility In water 50 g/l (pH 7.2, 25 °C). In methanol 4.9 g/l (25 °C). Stability Hydrolysis DT50 331 d (pH 3.8), >1 y (pH 6.9) (both 25°C).
COMMERCIALISATION
History Reported by H. Kristinsson (Proc. 8th IUPAC Int. Congr. of Pestic. Chem., Washington, 1994). Developed by Ciba-Geigy AG (became Novartis Crop Protection AG); transferred to Novartis Animal Health. Manufacturers Novartis A H
APPLICATIONS
Mode of action Interferes with moulting. When incorporated into the insect breeding substrate, prevents the development of larvae into pupae or adults. Uses Insect growth regulator, with a high specificity against Diptera and Siphonaptera. Used for control and prevention of blowfly strikes in sheep (1-2 ml/kg 5% suspension). Formulation types PO. Selected products: 'CLIK' (Novartis A H)
ANALYSIS
By hplc.
MAMMALIAN TOXICOLOGY
Reviews JECFA 54 (see part 2 of the Bibliography). Oral Acute oral LD50 for rats >2000 mg/kg. Skin and eye Acute percutaneous LD50 for rats >2000 mg/kg. Not an irritant. Inhalation LC50 (4 h) for rats >5020 mg/m3. ADI 0.007 mg/kg b.w. [2000]. Toxicity class WHO (a.i.) III (company classification)
ECOTOXICOLOGY
Birds Not toxic to birds. Fish Harmful to fish. Algae Harmful to algae. Other aquatic spp. Toxic to crustaceans. Worms Not toxic to worms.
ENVIRONMENTAL FATE
Animals Undergoes dealkylation to des-cyclopropyl dicyclanil. Plants Not relevant. Soil/Environment In soil DT50 1.5 d (20°C, loamy soil). Leaching period <1 d. Hydrolytically stable under environmental conditions. No significant volatilisation.